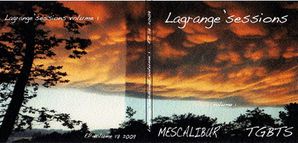 «La fin du monde, comme si vous y étiez ! Ambiances lourdes et déglinguées, Claustrophobes. A écouter dans le noir, à vos risques et périls… Une très belle rencontre entre Mescalibur et TGBTS. Cinq (dark) stars !»
Goéland60 .
Coproduction Entropique Production/Eg0cide Productions .
Mescalibur : synthés analogiques .
The Ghost Between The Strings : guitare & effets .
free DL sous CC http://www.dotspirit.com/url/YDFVBH98